Nice sandwich, buddy
I've written before that one of the things I like best about baseball is the sense of family that surrounds a franchise and a team and a community. You can draw a direct line through the annual rosters: from my mother watching Tony Oliva in the bleachers at Met stadium as a kid, to my grandfather enjoying box seats with Rod Carew and Roy Smalley in the infield. From my brothers and I getting our first taste of big league ball with Kirby and Kent Hrbek under the dome (and still loving an annual game when the "stars" were Chuck Knoblauch and Matt Lawton), to the perpetual October excitement on my college campus as Torii led the rejuvenation and then passed the baton to Morneau and Mauer.
It feels like the Twins are a part of my family and when you see Tony O. smiling next to his sandwiches and Hrbek pouring beers and Torii gushing about the best pancakes in town, it's easy to forget that not every relationship with beloved stars ends like this. Growing up in the mountain west it was easy to cheer for Karl Malone and the Utah Jazz...now they may not even want to be mentioned in the
same
sentence. Peyton Manning seemed likely to be buried in a blue and white Colts jersey and now the media is
ablaze with rumors
about where he will land next. Oh, and speaking of ablaze...
Thing is, you don't really see that at Target Field. We've said goodbye to our share of stars, but next season you'll see plenty of "Hunter 48"s and "Santana 57"s and "Cuddyer 5"s dotting the stands. And in ten years--when we sit back and reminisce about our run of division championships in the aughts--it's easy to imagine each alumnus throwing out a first pitch, sitting next to Dick Bremer for an inning, being polite and proudly cheered whenever they turn up.
So is that we don't care enough? That our players are so aware of our mild-mannered Minnesota-Niceness that they don't feel a need to get hot and bothered either? That the media is so ambivalent about our "small-market" that Joe Mauer could launch into an obscenity laced tirade against umpires, Bud Selig and TC Bear, without prompting so much as a three-second drop in on Sportscenter?
Actually, I think it's just that we haven't been forced into the situation that the Jazz and the Colts have faced. In each case there was a superstar athlete, a career-long member of the family who, for one reason or another, felt that management didn't want them around any more; and who, for one reason or another, management pretty much...didn't want around any more. It is as close to a sports divorce as you can find.
Strange but true
After all those years of adulation and affection to suddenly hear that your services are no longer required is a rough business. And it's not surprising that premier athletes, who have had every reason to be confident in their greatness from the age of 17 on, believe they can go another season and another and another. But when that belief contradicts management's assessment the battle for custody of the fan's affection begins. If the fans side with the player, there is a good chance of bronze statues and special ceremonies for your twilight years; if fans side with management...well...you get Hank Aaron the Brewer and Greg Maddux the Dodger. The Twins haven't had any of these bad breakups, we allow players in their prime venture out in search of wealth and fame and fortune; sad to see them go but grateful for the time we had together.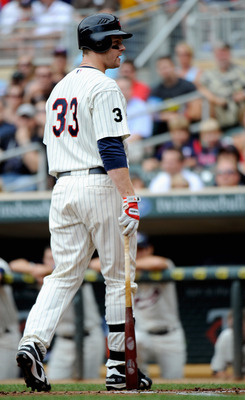 Of course, that may all change soon. After all, we love Justin Morneau, the big walloping Canuck who can hold down first base like a goalie. Heck, Stinky used to
plot ways
of getting him to her place (this of course was prior to our marriage). But Morneau's about to turn 31, he's missed large parts of the last three seasons with back and concussion issues and at a certain point you wonder if the Twins will say: "sorry big guy, you're done here." Already the drumbeat has started, people hope for the best and then mention, Chris Parmalee as an insurance policy, and hey, Derek Lee's still out there, could we maybe...? We can't help but think about the future and admit (however grudgingly) that this can't last. (I won't even mention the mutterings about the other half of the M&M boys)
Other bloggers can break down the factors that feed into the Twins decision making process; what in house options we have, what other franchises might be willing to take on the salary risk now or in the near future. But I'm not as concerned with that as I am with the franchise's family and with postponing a grim goodbye as long as possible. I want Justin to succeed because he's part of the lineage now and I'd rather keep him for the consistency of the clubhouse rather than wash our hands of him because of recent issues. What's more, I know that there will be a day when Morneau can be appreciated as a happy memory to be recalled with fondness rather than as a potential lynchpin of our lineup that causes worry and consternation. And when Stinky and I have a child or grandchild sitting beside us in the nosebleeds telling them about the good ol' days and drawing the line from our favorites to the current stars, I hope that, like Tony and Kent, and Torii that Morneau will want to come back, to throw out a ceremonial pitch to the new young guns, to reminisce in sepia tones about the good ol' days.
After all he's part of the family, and who really likes to say goodbye to family?