It's a holiday tradition as old as Barack Obama's presidency (...hmm that didn't sound quite as impressive as I thought I would...); every year, shortly after the Winter Meetings end, we Peanuts offer a poorly digested, mostly fabricated recap of the glad-handing and back slapping that turns four days of business meetings in a fancy hotel into something somewhat amusing.
We hope you enjoy this absurd dramatization of a professional business convention (and if you are somehow still amused by such absurd dramatizations feel free to explore our other recaps for
2011
,
2010
,
2009
, and
2008
.)
It's all so magical!
MONDAY:
9:23 AM--The serious professionals in the Twins organization are gobsmacked upon registering at the Opryland Hotel at the expansive atrium that could easily contain all the non-Lutherans in Minnesota!
10:05 AM--After purchasing a lot of swag at the Opryland Hotel Giftshop team budget managers sheepishly inform Terry Ryan that they have blown all the money saved by trading Denard Span
12:28 PM--Terry Ryan begins the going through his rolodex of available starting pitchers beginning with Blanton, Joe and Correia, Kevin.
4:41 PM--Ryan becomes seriously twitterpated before dialing "Grienke, Zack". Feeling just as nervous as he did before he tried calling Suzi Charmical for a date to the Junior Prom back in Zanesville
Greinke wishes someone in LA would
think up doofy photoshops for him.
4:43 PM--Remembering the crushing rejection suffered at the hands of Suzi Charmical, Ryan decides to just move on to the next name on his list (who won't cost more than the state's budget for education) Jackson, Edwin.
8:45 PM--After a super awkward dinner with representatives from the Dodgers, Greinke wishes that those nice guys from the Twins would call him so he could just once know what it was like to have *nice* executives talk to him. (*tear*)
TUESDAY:
3:23 AM--As he hangs up with Zambrano, Carlos (who may or may not have been at a rave) Ryan lets out a contented sigh at having called every eligible free agent pitcher with a pulse.
4:03 AM--After a 30 minute cat nap, Ryan takes out a Ouiji board and begins calling free-agent pitchers without a pulse: beginning with Alexander, Grover Cleveland.
Johan, Bert and Three Zombies!...Dare to dream..
11:38 AM--Braves General Manager Frank Wren stops by to take Ryan to lunch and gauge interest in trading Josh Willingham. But his aura interrupts productive discussions about a 2 year/3 Million brain deal with Zombie Christy Matthewson, and trade talks are abruptly cut off
6:45 PM--Having failed to procure a magical amulet to raise the dead and sign them to pitching contracts, Ryan returns to his rolodex of available pitchers only to discover that Joe Blanton will be signing elsewhere, and thus Kevin Correia is the most alphabetically appropriate pitcher.
7:00 PM--Ryan rage quits on his free agent pursuits and the front office staff has to calm him down by starting the traditional Winter Meetings TV Show marathon a skosh early.
7:20 PM--Three scenes into the first episode of Sherlock, no one can remember who they are, what they are doing, or why anything except the fact that they HAVE TO watch more of this show.
WEDNESDAY:
6:01 AM--Ryan cries at the last scene of "Richenbach Falls"
6:02 AM--Ryan unleashes a stream of profanity about series creator Steven Moffat after seeing the ACTUAL last scene of "Richenbach Falls"
7:27 AM--The front office staff concludes their tv gorging winter meetings ritual by ordering up some room service, including an extra big banana split to calm down a still ragingly furious Terry Ryan.
10:43 AM--Finally emerging from the stale air of their suite, Ryan and his colleagues connect with their counterparts in the business and begin to gauge interest in possible trades.
2:18 PM--The staff reconvenes to compare their measurements on their "gauges of interest"; realizing that surprisingly Justin Morneau's interest rated at "14.8 STPE" (seconds thought per executive) which was below the measurements on the Ben Revere gauges: 47.7 STPE.
4:33 PM--Bert Blyleven calls in to plead with the Twins to step up their pursuit of trading for Texas lefty and his relative Derek Holland.
4:53 PM--After quite a bit of effort, the front office staff convinces Blyleven that just because his name is "Holland" does not mean that he is actually
from
Holland. But appreciate that thought.
"Finite Sucktarium!"
8:15 PM--As word leaks that Bluefield Blue Jays president Richard McGonagale will be named "King of Baseball", the Twins quietly inquire as to whether or not McGonagle has any relation to that British witch lady and if that magical touch chan be swayed into our organization.
THURSDAY
6:18 AM--Trade discussions about Revere nearly derail when Assistant Bill Smith asks Ruben Amaro Jr. "What the hell is a Phillie anyway?" making Amaro a little overly defensive.
8:53 AM--As the scouts plan to take to pick Ryan Pressly (a starter converted to a reliever) in the Rule 5 Draft; they have to awkwardly wait through the terminally unpopular Rule 1, Rule 2, Rule 3 and Rule 4 Drafts.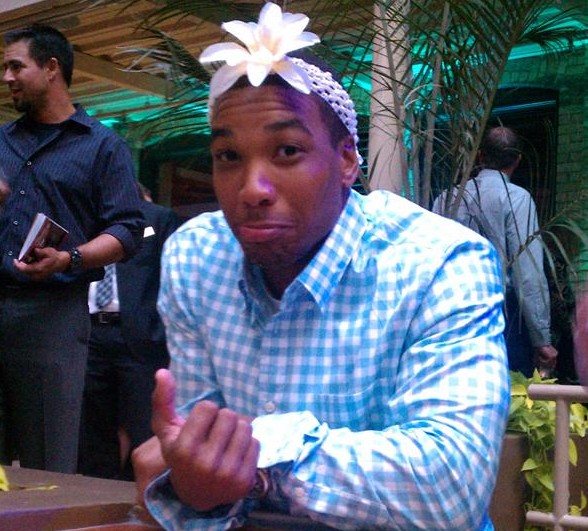 Don't cry Ben, we'll send your
forwarding address to Santa
11:07 AM--The team puts the final touches on a trade that will send Ben Revere to Philadelphia for pitchers Vance Worley and Trevor May, which forces Terry Ryan to do the hardest thing in the world...watch Ben Revere's childlike innocence die.
11:09 AM--When asked if Santa will still be able to find him in Philadelphia, Ryan can't help but say "YES! OF COURSE! Don't worry! Santa totally will find you and he
is
real!"
3:28 PM--En route the airport, Terry Ryan remembers that he was supposed to talk to Jared Burton at some point this weekend, calls him with the offer of 5.5 Million over two years with a 3.6 Million dollar option for the third year PLUS any razor he wants to shave down his neck scruff.
3:29 PM--Burton agrees, but doesn't require the "razor clause".