So I've been more or less completely consumed with the World Cup this month. Watching every match I can, reading interviews, reports, reviewing highlights, and writing
like a maniac
. But I still think of baseball, perhaps never more clearly than when I was watching a World Cup match with some friends last Thursday.
We needed a point against Germany, or some good fortune in another match. Being Minnesota sports fans, we fully anticipated that everything would turn against us at any given moment. As a result, every flaw, every foul, every mistake increased our anxiety and our ire, and nobody got under our skin as much as Michael Bradley.
Bradley--mid-mistake. (From Slate.com)
For those who don't know, Bradley is widely believed to be the best American player. A creating midfielder he basically serves as the point guard, distributing, defending, inventing and supporting every aspect of the game. A favorite in European leagues, bigwigs and pundits think that Bradley could easily make every one of the other 31 teams at the World Cup (even intimidating German and Brazilian squads).
But that didn't excuse Bradley's lackluster play. He was nowhere in the first match. He gave away the ball that became the equalizing goal against Portugal. And in the final match versus Germany he was sloppy: losing the ball frequently, making clumsy/ineffectual challenges. Suddenly my friends were out for blood.
"Bradley, what is wrong with you?!?!"
"Bradley gives it away every time, I'm telling you!!!"
"God, Bradley, just stop! STOP!!"
I couldn't remember the last time I'd heard so many people, so upset, with such a talented athlete. Until I remembered my last trip to Target Field and the shouts at #7...Joe Mauer.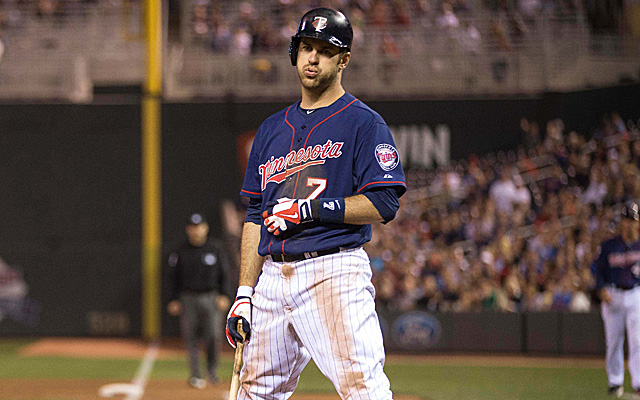 Joe Mauer Misses the Cheers (From CBS Sports)
"Mauer, what is wrong with you?!?!?"
"Mauer grounds out every time, I'm telling you!!!"
"God, Mauer, just stop! STOP!!"
I sort of assumed it just revolved around the old story: big name, big expectations, minimal delivery, maximum reaction. But there's a little something more to it than that I think. After all, we seem perpetually enamored of other players, even though they certainly have down moments too...why be enraged by Mauer and Bradley and not the others?
I think the reason might lie in our selection of heroes. We love the strong, the powerful, the mighty men who never cease to amaze with their offensive exploits: think Harmon Killebrew, Jim Thome and, in the soccer world, Clint Dempsey. We also love the daring, the bold, the unbelievable save-the-day types: Kirby Puckett at the wall, Johan Santana at the end of a losing streak, Tim Howard any time of day.
But those two styles of heroes do not match well with either Bradley or Mauer. They won't win things single handedly (
either with goals or home runs
). They won't save the day (
either with sparkling defense/pitching or miraculous goal keeping
). They are more like artists than heroes. Doing things that seem unusually beautiful and nearly impossible to quantify. They distribute the ball where it's least expected (
either with passes or with spray singles hitting through defensive shifts
). They provide a team with a reliable pillar requires opponents to develop specific plans. They are lauded by many--particularly those who see them at a distance and know their reputation. Sure some artists can also be powerful or save the day (
Magic Johnson comes to mind
), but if you can't you drop in stature rapidly (
looking in your direction Ricky Rubi
o)
Of course there's one big gap between an artistic athlete and a straight forward artist: artists don't need to win anything, athletes always do. So, when an artistic athlete goes from great to average, it's easier to abandon them than hold on to the quietly valuable work of the past. And if they have a run of bad form while the team succeeds in spite of them, fans can get down right angry at the waste of talent who should be making a good team great rather than holding them back.
What the hell Strathairn?!!
Those who hate on Mauer and Bradley would be rather like if art fans got pissed when Monet refused to change style when Seurat and Van Gogh got more experimental, or if movie goers whined about David Strathairn never getting back to his Oscar nominated potential.
Of course, that hate doesn't have to last forever. Every World Cup match brings a new slate of heroes and raft of scapegoats. In the last week alone, Joe Mauer went from washed-up to offensive lynchpin. A weak bit of artistry inspires nothing but frustration, but even the weakest artist is still an artist, and capable of transcendent moments.
When those moment comes, I look forward to hearing all the jeers and frustration die away, and for one word to supplant them. One word when Bradley hits Clint Dempsey in perfect stride. One word when Mauer knocks in two with a single to the opposite field. One word, in city/state/nationwide chorus: "YES!"