Again, I've been derelict in my duty--though I was out of the country and away from reliable internets for a while there. Still were back with another nerdy English-Class style recap of the last month (plus) in Twins Territory
Chapter 3: June to the All-Star Break
So great was the joy among fans after a shockingly strong June, that the Twins could, to many eyes, have appeared better than they actually were. So it was only slightly surprising that the team stumbled badly in June.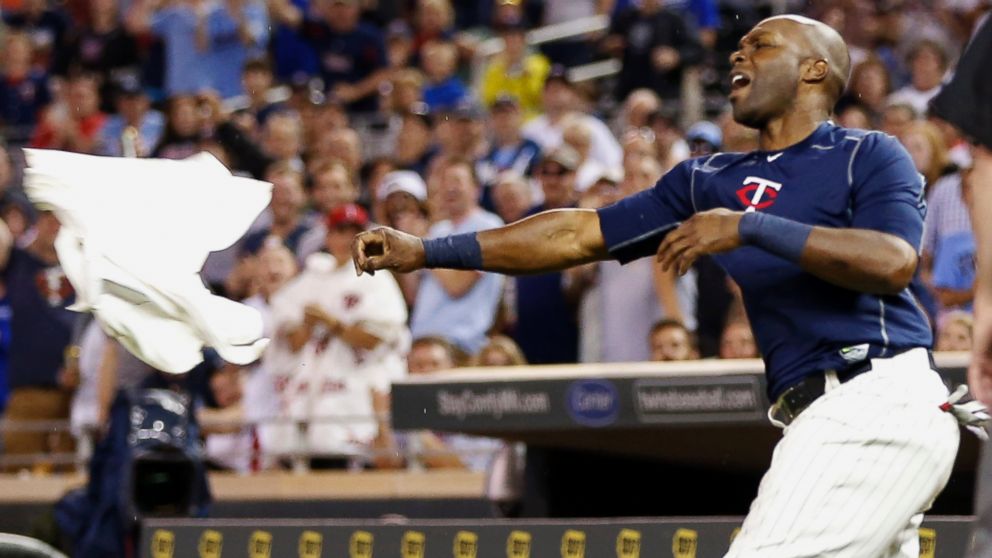 The slide began by dropping two out of three to the Brewers (who had not been terribly impressive) at Target Field. Then the rival Royals ended the Twins' time atop the Central with a sweep (culminating in Torii Hunter's freak out) and the doldrums continued as they dropped two out of three to the Rangers, but in an effort either to stop the slide or to hold on to their quavering place in the attention of local fans the Twins called up the first of their dynamic prospects: Byron Buxton.
Buxton's arrival accompanied the only Twins win in Texas, and despite two losses in St. Louis, his thrilling play and daring speed were on fine display as the team returned to the Twin Cities in excellent form evening the score against the Cardinals, several close games against the Cubs and a crushing of the White Sox. Sadly, a slide against the White Sox also crushed a bone in Buxton's thumb, and he was removed from the lineup as suddenly as he appeared.
Efforts to repeat the magic on a return trip to Milwaukee by calling up another touted prospect in Alex Meyer were unsuccessful. The National League again thwarted the Twins' momentum as the Brewers and Reds squeezed the home town 9 to a paltry 4-8 record against the bottom 3 teams in the NL Central. Meyer was duly demoted and again things looked grim.
The Twins went to the prospect well a third time and called up Miguel Sano for their visit to Kansas City. As a pure hitter, Sano trumped even the heralded Buxton, and his 11 game hit-streak coincided with the Twins sudden offensive rejuvenation as they finished the first half of the season on a 8-3 run, good enough to put them in 2nd place in the division and 2nd place in the entire American League.
Main Character Development:
The true climax of this chapter was the All-Star Game and the two Twins players who went, recognized as being among the best of the best (the 90th percentile of players in the major leagues). First and foremost, the acknowledged top closer in the league:
Glen Perkins.
Perkins broader acclaim was all the more note worthy for where he had come from: failed starter, unhappy demoted pitcher, after thought set-up reliever, and, as of now, owner of the best Save streak in Twins history (28 in a row). Most impressively, in this chapter of the season he faced 45 batters and allowed only 6 of them to reach base (a .133 OBP against).
Perkins was joined in Cincinatti by second baseman
Brian Dozier
who was initially left off of the roster. That snub may have been the best thing for him. It begat a voting campaign (No Bull, Vote Dozier); it got his name mentioned consistently in the national press and on cable tv, and it aligned perfectly with an outburst of timely hitting including two walk-off home runs and another in the All-Star Game itself that captured a great many eyeballs across the country and began a genuine grumbling campaign that he might be the league MVP (assuming he both kept it up and found some way of getting Mike Trout to fall into a temporal vortex). What was once a cute photoshop on this blog is now a common talking point (so much so that at a wedding I attended last weekend, both the bride and my grandmother could be found discussing him).
As Perkins and Dozier rise as protagonists, it will be interesting to see what obstacles and conflicts are thrown in their way to create dramatic tension for the rest of the season.
Key Quote/Stat Explained:
Pythagorean Winning Percentage: .528
As any fan can tell you, occasionally the better team loses. Unlucky bounces, dumb umpire calls, a slight stumble on a soggy infield, all of it can turn the game when you least expect it. So there's the Pythagorean Winning percentage, in which the square of the hypotenuse of a right tri...wait, no...that's Pythagorus' Triangle Theorem...when he was brought forward to the present by Doctors Bill S. Prescott and Theodore Logan to watch baseball and party on dude, he (and Bill James) developed an equation to measure how many games a team should win based on both their runs scored and their runs allowed.
To wit:
via baseball Reference
Basically dividing the (approximate) square of a team's runs scored, by the (approximate) square of their runs scored PLUS the (approximate) square of their runs allowed should yield an average result.
So while many Twins fans are dancing joyously at the fact that the Twins have the second best record in the American League, our Pythagorean Winning Percentage can show whether we are really lucky, a little lucky, or even unlucky to be where we are.
The Twins Pythagorean Winning Percentage is .528 (or 52.8%); their real world winning percentage is .551 (or 55.1%), so they've only been about 2.3% luckier than their run total would suggest. So they are actually a solid team with the chance to get better (unlike the White Sox who are below 500 and still 8% luckier than they ought to be).
The one down side is the Twins have a lower Pythagorean Winning Percentage than 8 other teams, including three currently outside of the playoff hunt: the Orioles (7% unlucky), the Blue Jays (8% unlucky) and the Athletics (9.8% unlucky). If those teams see their records normalize a bit, and the Twins drop even a percent in their luck, people dreaming of the playoffs can put a pin in it.
Literary Term to Impress English Majors:
Writers throughout history have relied on a simple belief: everything's better in threes. Hence "
The Rule of Three".
Things are funnier, easier to remember, generally more meaningful if you combine things in threes: three volume novels; three act plays; three little pigs; three bears; I came, I saw, I conquered; stop, drop, and roll; a priest, a minister, and a rabbi
It doesn't just take three things to fit the rule of three, they should be thematically connected and structured in such a way as to make meaning. So take the Twins June/July call ups: Buxton/Meyer/Sano.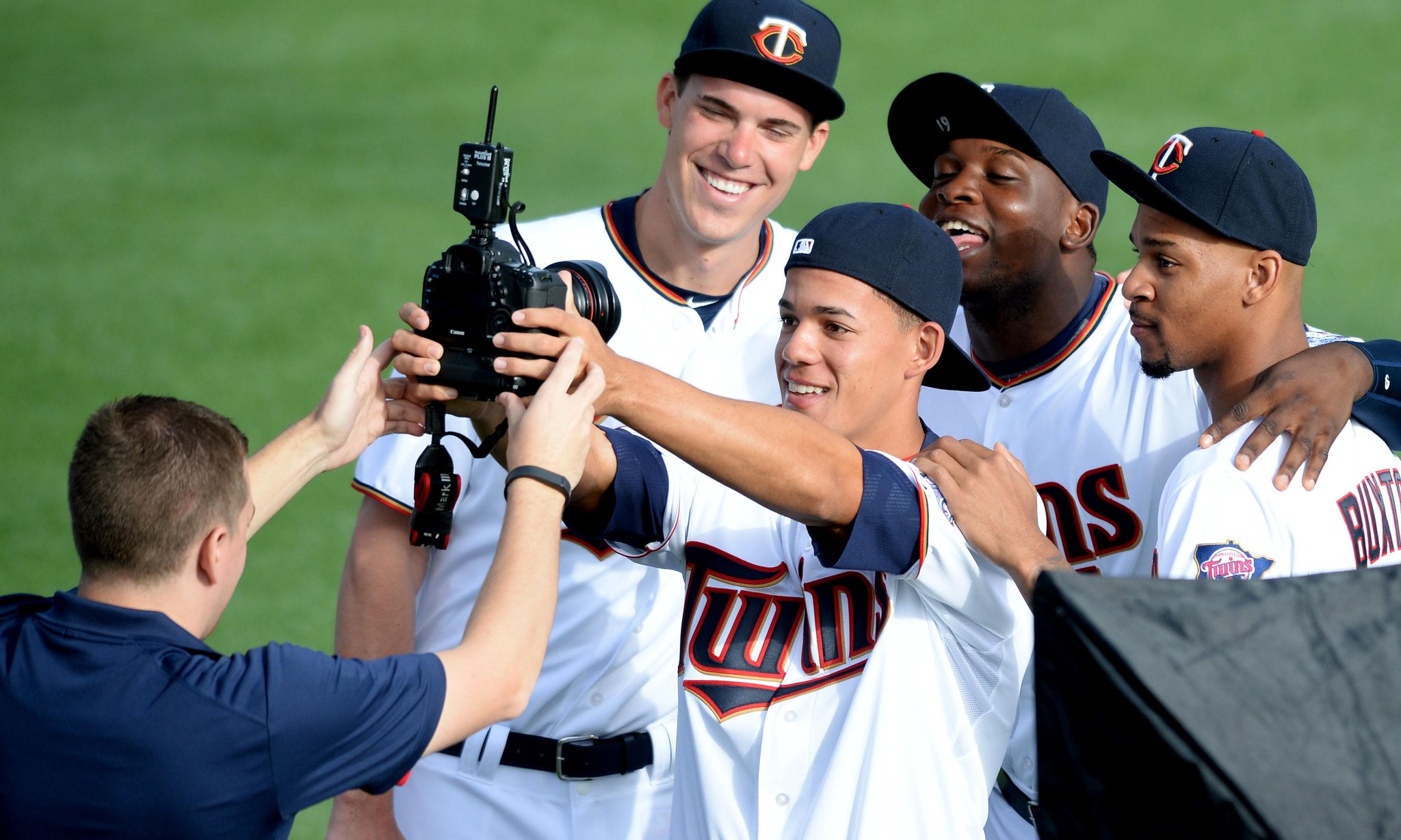 From L-R: Meyer, Berrios, Sano, Buxton
(Good news, Jose: you don't have to worry about this rule)
Buxton comes first, and excites the fan base, we need him and he looks pretty good but it's over early due to the thumb injury.
Meyer comes second, the fan base is a little less excited, but there's enough mention of his pedigree, status and dominance as a reliever in AAA to make him enticing, and it's over very quickly when he gets hammered by big league bats.
Sano comes last, and while he's long been one of the two big names in the Twins' system, the structure is set up to make at least a few fans regard another call-up skeptically. So his offensive outburst with power and patience seems like a pleasant surprise, even though he has always looked capable of this.
Obviously, I don't think the Twins intended Buxton and Meyer to have such unpleasant endings to their Major League debuts, but if there was some sort of magical script-writing in all of this, it would be a pretty great use of the Rule of Three.