Confession time: I should, be all rights and rationale be a fan of the Los Angeles Dodgers. Living in Minnesota makes cheering for the Twins a little more natural but my family, my hometown and my first experiences as a fan are all tied to the Dodger blue.
My father was born in Brooklyn, and growing up I always liked the thought of his stroller rolling by Ebbets Field. A few years ago, before she passed, my grandmother confessed that she had always loved the Dodgers, listened to Vin Scully every day and repeatedly pleaded with my grandfather to let her set aside a little money for tickets to a game together. (He stubbornly refused, but that didn't stop her from debating the fate of Dem Bums with every neighbor and local shopkeeper she met.)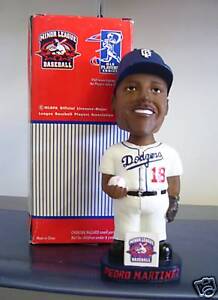 When I was a kid, growing up in Great Falls, Montana, there weren't many chances to watch baseball so I read about it instead: the sports pages all summer long, and in the winter I'd pour over biographies of legends always gravitating towards Dodger greats like Duke Snider, Pee Wee Reese and Roy Campanella. There was a Rookie League Dodgers affiliate that played a half-mile from my house. On summer night I could hear batters announced and fans cheer even if I wasn't at the game. This was a pretty great time to watch young Dodger talent, with young guns who would Rookies-of-the-year season after season for the big club, it felt like we were part of something bigger than ourselves. Hence, our dogged loyalty to Eric Karros, Raul Mondesi, John Wettland, Jose Offerman and a stringy pitcher with a whip like arm named Pedro Martinez. (That list also includes current Dodgers James Loney and Johnathan Broxton and everybody's favorite Twin Cities soul patch: Jason Repko.)
Between my grandmother, my deep appreciation of Dodger lore and spending summers cheering the blue and white, it sure seems like I should be a Dodger fan...and yet?
The move from Brooklyn broke my grandmother's heart.
The ownership's total dismissal of classic players (see Koufax, Sandy) makes it hard to connect current Dodgers to old Dodgers
Squandering all the young talent we helped nurture made cheering for the major league club difficult.
When the Dodgers left Great Falls for Ogden, Utah the staff made a point of saying: "This is where we should have always been" (the sense being...that place we sent our young players for two decades? Yeah, they suck. Screw 'em.)
And watching last night...well the less said about that the better.
Long story short, I know the Dodgers are supposed to be an elite franchise, and with all my history with them, maybe I should cut them some slack. But the truth is the Dodgers always seem not to care if you like them or not...in fact I think they'd just as soon run over opponents, fans, support staff and team legends for the sake of an owner's whim.
All in all, the Dodgers are a thoroughly unlikable franchise (at least in my personal opinion), the Yankees of the West Coast/National League. So c'mon Twins...for your sake, for my sake, for the sake of all that is good and pure and just in the world...whup dem Bums!