"We're helping Scruffy win
a scotch!!"
It shouldn't be too much a surprise what's going on...after all, I can't seem to find time to write anything but this form piece. But in case you're allergic to scrolling down, here's this week's update in the Heavenly Peanuts Scotch Bet (2014 Edition)
Coming down to the last week of the season the Twins stand at 66 and 89, on pace for 69 wins, which is to say dangerously close for the purposes of our bet.
First, it's time to admit again that my father-in-law (known affectionately here as "The Gouger" to protect his true identity from shareholders) has been eliminated yet again. His prediction of 75 or more wins was still too optimistic for the Minnesota Twins to deliver on. However there are two of us left and here's how it shakes out.
Mmm...peat...
If the Twins win 3 games or less, Stinky [my beloved, Peat-addicted wife] wins
If the Twins win 4 games or more, I win [and will likely settle for an excellent, though possibly mellower and more Sherry-tastic scotch]
While running a 14 K Saturday, Stinky expressed her feeling that perhaps this year would be my year. Then of course the Twins dropped back to back games to the Indians and left us very much unsettled about the week ahead.
The final three home games of the season will pit the Twins against the Arizona Diamondbacks, one of exactly three teams with a worse record than the Twins. (They've played the other two (Texas and Colorado) as well and have a cumulative record of 4-6...yes...we even lose to the losers.) Then they go on the road for four against the Detroit Tigers, who have surprisingly struggled against the Twins this season. (In fact, the Twins only have winning records against five teams: the Padres, White Sox, Blue Jays and Mariners.)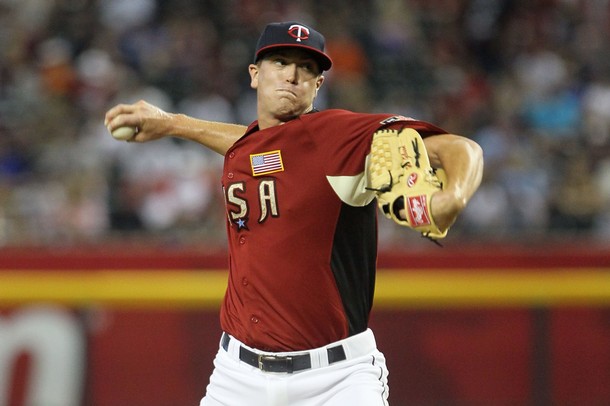 Remember when you wore this
ugly D-Back-ish jersey and were
awesome Kyle? We do...
So, what will it take for me to get my wife to buy me a drink? A 4-3 stretch, which--coincidentally--is exactly the stretch the Twins just completed this last week. They'll send their best pitchers up against the Diamondbacks (assuming a slightly less than terrible Ricky Nolasco now counts as one of our best)...and it will be particularly important for Kyle Gibson to bounce back with a good final start. Trevor May and some sacrificial lamb (in lieu of Tommy Milone) will likely get pounded by the Tigers in the first two games in Detroit, and if that allows the Tigers to rest players up for the playoffs Nolasco and Gibson might just save my proverbial bacon.
God Speed and Good Whisky to you Twins Pitchers...we're all going to need it.