And that winner...is me. Yay for me!
Yes, all you loyal readers out there (which blogger seems to think is in the 1,000 range and I know is much closer to the 1.000 range), I have won something, because the Twins (in turn) won something!
With their victory last night over the Detroit Tigers I have triumphed over both my wife (and fellow blogger) and my father-in-law to accurately predict that the Twins would win about 70-71 games this year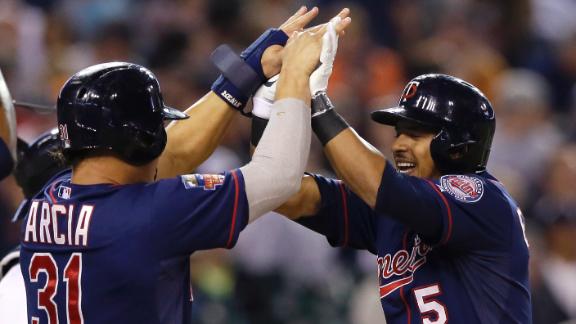 YAY! Someone we've never met has won a prize for doing nothing
more than making a slightly more accurate guess than other people!
YAAY, MR. PEANUT!!
Clearly, the Twins did this to thank me for my years of selfless blogging on their behalf. My positive attitude and enthusiasm. Still, it was a team effort, with a host of victories being tallied courtesy of a surprisingly strong Eduardo Escobar (justifying the love I gave him back when he used Grease as his walk up music), an unusually potent second baseman, a bullpen that didn't struggle until recently, and Phil Hughes' New Years resolution to give up walking people.
However, clearly the most important person was me, which is why I've been saying that "I" won, rather than "we" won. Although, to be true to myself, it seems only right that I offer the Twins a sip of my scotch. So come on over, Ricky Nolasco! Come on over, Oswaldo Arcia! Come on over, Kyle Gibson and Anthony Swarzak, Ryan Pressley and Brian Duensing, Kurt Suzuki and Trevor Plouffe, Danny Santana, and Kennys Vargas (assuming you're actually old enough to drink), you can even come on over, Joe Mauer: The Drinks are on Me! (Or more accurately, my wife and father-in-law who graciously don't see this as bragging!)
And now the only question is--Balvenie Portwood, or Laphroig 25?