Look out ladies!
Game 57
Twins 3 - Royals 0
Right after we honored him as Mr. Peanut for the past two weeks, Ryan Doumit kept it going all Magic Mike Style, bringing sexy back as only he can.
Or like one other person can...because Samuel De-dude-bro joined in the party, rockin' the Royals like it ain't no thang. Proving that the Doumit/Deduno Combo plate is dangerous to opponents...not to mention, the ladies...
Game 58
Royals 4 - Twins 1
In an effort to make games faster, the Twins and Royals agreed to decide the outcome of the game in the first inning. Making Daniel Lough's RBI double the difference maker. Unfortunately, they were still forced to play 9. [Cue sad trombone]
Game 59
Royals 7 - Twins 3
I was all set to make another Mike Pelfrey crack since he gave up a one run lead in the sixth (as per the usual), but he ended up not giving up the go ahead run (an honor that went to Jared Burton instead). So it's progress! Let's have some celebratory Nickleback for Mike Pelfrey!!
Game 60
(Rained out)
There was a real honest-to-goodness hurricane near Washington DC Friday. So not playing was probably a wise choice (though Aaron Hicks did miss a chance to be sucked up and plopped down in the magical land of Oz..instead that happened on Sunday when he got injured)
Game 61
Twins 4- Nationals 3
I recapped this game in my previous post about being a brother. But I'll just add this in a special aside to Nationals' fans. Ryan Doumit does not like being called "donut", your ineffective jeering was justly punished.
Ball Park Food Haiku: Nationals Dog
Preparation, Expectation, Joy
Oh, it's still just a hot dog
like laws, don't show me.
Game 60 (Replay of Friday's Rain-out)
Nationals 7 - Twins 0
The Twins were able to update their scouting report on the Nationals' starter after the game. It now reads: "Jordan Zimmerman can pitch baseballs very, very well. :( "
Game 62
Nationals 5 - Twins 4
This series was the first reunion of the Twins with their favorite centerfield ninja of years gone by: Denard Span! There were plenty of laughs, lots of smiles, a few choice hummings of our "Save Big Money at Denard's jingle" and plenty of great bonding (not unlike the previous road trip's bonding with Carlos Gomez).
But sadly, Denard
.
So perhaps we shouldn't have been surprised when he tripled in the tying run and finished the series with a 6/13 (.465) record against Twins pitching. But really, Denard, did you have to kitana slash Aaron Hicks' hammy? Oh, right you're a ninja, you probably did have to.
does play for another team now, and he continues to have this crazy fixation with "playing well"
Game 63
Twins 3 - Phillies 2
Speaking of former Centerfielders: Ben Revere returned to town with his new team the Phillies at the start of the week! (Also Delmon Young returned...[
crickets chirping
])
Meanwhile Justin Morneau decided to once again bring the badassery back to the batters box. By encouraging Josh Willingham and Oswaldo Arcia to join him in a Double-Hitting-Conga-Line, then swatting a game winning single in the 8th. Bravo Mr. Hotpants, bravo.
Game 64
Twins 4 - Phillies 3
The first game that both Mrs. Peanut and I were able to attend together this season was a mixed bag. The couple innings of drizzle were less than cool. Mike Pelfrey surprisingly lasting six whole innings was alright. But our easy winner for Thing of the Day: Eduardo Escobar walking to the plate to "You're the One that I Want" from Grease. You have to be a whole lot of something to get pumped up by that song.
Additionally, special kudos to game hero, Clete Thomas. Most people assume that Clete is short for Cletus...but in reality it's short for Cletington Aberforth Thomas VI. (I know this because once I called him "Cletington" he started getting hits.
BallPark Food Haiku: Cabrito (Goat) Butter Burger w/Roasted Tomatoes, Onions and Pickles
Soft and subtle meat
Fresh veggies singing for you
Wow...that price is right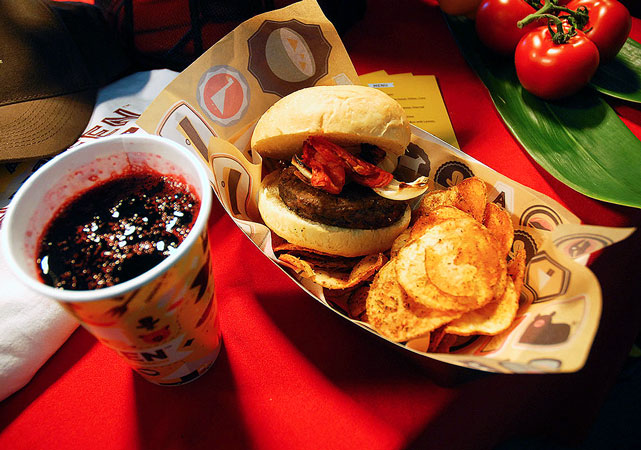 Game 65
Phillies 3 - Twins 2
Once upon a time, in 2010, the Minnesota Twins wanted a starting pitcher and really liked a young man with the Seattle Mariners named Cliff Lee. Cliff Lee was strong. Cliff Lee was tough. Cliff Lee had a record for not caring about big cities or major contracts (having gone from Cleveland to Philadelphia to Seattle with a smile on his face). So the Twins set out to get Cliff Lee offering top prospect Wilson Ramos for him...the Mariners said no. Cliff Lee went to Texas and took them to the World Series. The Twins got Carl Pavano and got bounced in the first round of the playoffs (again).
Carl Pavano is out of the majors. The Twins have had two 90 loss seasons in a row. And Cliff Lee is still awesome (as evidenced by his strong performance this night).
This has been another random story that some people think indicates the Twins' incompetence, but is actually just a set of facts.
Game 66
Tigers 4 - Twins 0
Despite the many fevered protests of Ron Gardenhire, the umpires refused to count every inning but the sixth and the Twins were thusly shut out. We cannot confirm at this time whether or not the umpires commented on how adorable Gardy gets when he's angry. "Like an apopleptic garden gnome! Just SO CUTE!!" Crew Chief John Hirshbeck is reported to maybe have said.
Game 67
Twins 6 - Tigers 3
Annabelle Sanchez
The Twins roughed up Anibal Sanchez and Darrin Downs en route to win against the division leaders. Meanwhile, in Bert Blyleven's mind "Annabelle" Sanchez was on the mound for the Tigers, because apparently "Ann-i-ball" is too phonetically difficult. Once Sanchez left the game early, this may have been what Annabelle wrote in his diary.
Dear Diary,
Oh my stars, how utterly horrid I feel today. I fear I have caught the shoulder vapors from that flying contraption Colonel Leyland insisted we use to come to Minnesota. But I musn't let the Colonel know, he frets so! I long for a return to my beloved Comerica Park, with its bushes and fountains and parasoles gaily dotting the seats. These Minnesotans are so unsporting! Rather than offering me a sun hat, or a glass of lemonade they made me throw a ball around like an animal! I simply had to leave the mound, even though it was a fine day, I couldn't stand the cruel barbs that Canadian Savage, "Morneau" I think it was?, hurled at me on the field. I shall try to regain my composure, but I'm simply too frail to endure these epithets. Heavens me, diary!
Annabelle
This has been another Bert Blyleven mispronunciation induced goof-off session.
Game 68
Tigers 5 - Twins 2
The Twins clearly felt the pressure of impressing their dad's on Father's day, though it couldn't possibly have been as intimidating as trying to please the most withholding father of all time: Tywin Lannister.
Unimpressed.
A sampling of Tywin-esque dad responses to Twins players
"Of course I thought you pitched well, Samuel...it's just that Doug Fister was better than you in every conceivable way...also you probably killed your mother and ruined my life."
"Yes, that was a nice home run Brian. But it wasn't a game winning home run now was it. So it might as well have been a strike out. Also, you probably killed your mother and ruined my life."
"No, Cletington I
don't
care about your RBI. I'm a little busy winning a war, running a nation and gutting this elk for our barbecue. Run along and play your little games with your prostitutes."
etc.
P.s. Congratulations to former Twin and long time Peanut favorite Torii Hunter on his 300th homerun!
Mr. Peanut: Glen Perkins
(It's partly a function of his job, but he's not giving
up
leads...so that's a plus!)
Nutty-Buddy: Scott Diamond
(Hey, Scott, Remember when you were the only good thing last year...we have more good things this year...be one of them)